BEDFORD GOLF COURSES
With over 20 golf courses in 477 square miles, Bedfordshire has more than one golf course in every 25 square miles. Clearly, this historic county is keen on golfing …
BEDFORD RESTAURANTS
Bedford has a wide selection of restaurants offering a variety of cuisines from around the world. In particular, Bedford is known for its Italian …
BEDFORD SHOPPING
Bedford has been a market town since the Middle Ages and in those days it would have been the heart of shopping in the county and people.Our corporation web services are working for several…
The Middle Ages
In 1166, during the reign of Henry II, Bedford became a borough, which entitled it to political representation and also granted it a merchant guild. Concurrently with that of other medieval settlements in the region, Bedford's economy was centred on agriculture and commerce. Due to its larger size and central position, it became the area's main trading point, with various commodities available, out of which the main one was wool. The 12th century marked notable social development, as the first place of worship was established, referred to as Newnham Priory, and the first school was built, under the patronage of the priory. During mid 16th century, more precisely since the 1560s, a new branch of the textile industry, lace production, became prominent in Bedford and remained an important part of the area's economy for centuries . The population declined on several occasions due to contagious illnesses, particularly during the bubonic plague outbreaks of 1575-1576 and 1578-1579, yet recovered afterwards. During the 17th century, by 1670, navigation of the River Great Ouse was accomplished in the region, which furthermore facilitated commerce.
The history of Bedford
Located in the central-northern part of Bedfordshire, in eastern England, and also its county town, Bedford has been attested since early medieval times, as proven by historical sources documenting the reigns of various Saxon kings. The settlement was built on the River Great Ouse, which has, throughout the centuries, been an important source of sustenance for the developing local population.
Industrialisation
Starting with the 18th century and its technical improvements in engineering and architecture, which resulted in many new constructions, Bedford underwent a moderate expansion. According to historical records, one of its most profitable economic sectors at the time was the brewing industry. At the beginning of the 19th century, between 1811 and 1813, the Town Bridge was built, taking over the functions of the former bridge, built in medieval times, which had become less reliable. The 19th century was one of intense change, which saw the rapid progress of the industrial sector as well as new ways of travelling, as railway services became available in 1846. There was a substantial improvement in living conditions as well, as commodities such as gas lighting, piping and sewage were gradually introduced. However, sanitation remained unsatisfactory for a long tine and there were two major cholera outbreaks in 1832 and 1849. A notable public area established at the time was Bedford Park, inaugurated in 1888, which has remained the main park in the municipality to this day. Also, Bedford's first hospital opened eleven years later, in 1899.
The 20th century
Along with major organisational and social transformations, the 20th century brought a variety of industrial activities, such as aircraft building (which only lasted briefly) and brick making. Nonetheless, farming remained one of the main sources of sustenance. Living conditions also improved at a fast pace and in a mere hundred years the population doubled. Local culture flourished and was complemented by the opening of a library in 1935, an art gallery in 1949, named the Cecil Higgins Art Gallery, and later, two museums, Bedford Museum in 1962 and Bunyan Museum in 1998.
Historical constructions
Bedford Castle, constructed during the reign of William II sometime between 1100 and 1130, only lasted until 1224, when it was destroyed in an aristocratic battle over supremacy. It was the second fortress built in Bedford, preceded by the one erected during the reign of Edward the Elder in 919, which was more modest in size. The construction was a moat and bailey castle comprising timber and masonry (as shown by the masonry footings found where it once stood) and withstood four previous raids before finally being demolished. Bedford Castle Hill, which is a protected monument, is preserved as a vestige of its existence.
St Paul's Church was initially built before the Norman Conquest, although nothing remains of the original construction today. In the first part of the 13th century a larger, more architectonically sophisticated church was built on the site, yet that construction as well suffered substantial damage and few features have been preserved. The church as been reconstructed and renovated a number of times, the last major reconstruction of its upper part taking place in the 1860s.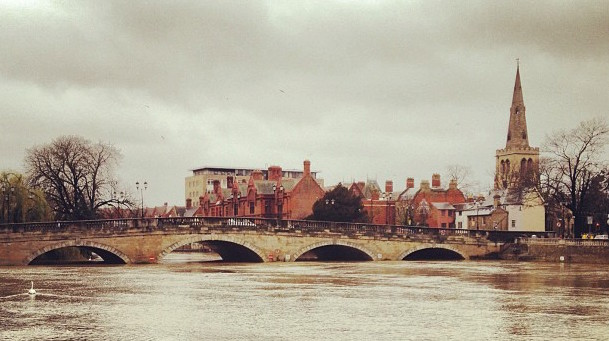 Personalities
John Bunyan (1628 -1688), undoubtedly one of the most notable historical figures of the Bedford area, originated from Elstow and is remembered for his religious writings and sermons. As a Reformed Baptist, he refused to recognise the Established Church of his time and spent as many as 12 years in prison for his religious determination. During his imprisonment he wrote his most remarkable work, The Pilgrim's Progress, which is the allegory of a spiritual journey.
John Howard (1726 -1790), England's first prison reformer, is also remembered for his character, morals and humanitarianism. He was a Bedfordshire landlord who unlike most aristocrats, was preoccupied with social reforms and the welfare of the worst off. In 1773 he became High Sheriff or Bedfordshire and after carrying out many prison inspections, began campaigning for the improvement of prison conditions, a cause he dedicated the rest of his life to. He also wrote a number of works in which he compiled detailed observations of national and foreign prisons.
Present day
Today, Bedford is divided into ten organisational structures referred to as wards and is also part of a larger structure in conjunction with three other smaller municipalities, Elstow, Biddenham and Kempston, which along with the town itself form the Bedford Urban Area. The management of Bedford's wards differs, as three are governed by community councils (Cauldwell, Kingsbrook and Queen's Park), one is managed by a parish council, which works in a similar manner (Brickhill), whilst the other six (Harpur, Goldington, Castle, De Parys, Putnoe and Newnham ) do not feature such institutions. Due to intense immigration during the 20th and 21st century, which resulted in a very diverse population, Bedford has developed a cosmopolitan culture, as its ethnical components include many people of Italian, Asian and Easter European origin.